Dr. John Madej specializes in Internal Medicine. After completing his training 14 years ago, he opened a primary care practice in Northern California that became one of the most successful practices in the area. In 2008, he and his family relocated to Palo Alto so his three children could continue their education in the fine local schools.
In 2008 Dr. Madej opened a new primary care office in Portola Valley on Alpine Road. He specializes in Internal Medicine and hospital care with an emphasis on preventive medicine. Dr Madej accepts some of commercial PPO insurances. We are also pleased to offer Premier or Concierge Medical Services for our patients who seek the most personalized, comprehensive and customized care in the office or the hospital. For older adults, we are proud to present the Senior VIP program, which offers extensive physician services for a modest monthly fee. For information see our page Appointments/Home Visits.

We welcome the opportunity to help you and look forward to meeting you in our office.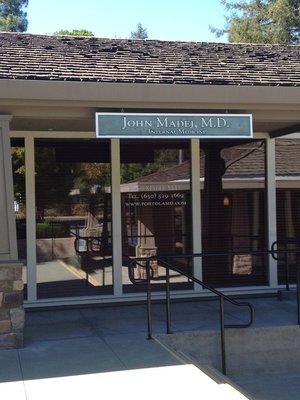 Doctors of Internal Medicine focus on adult medicine and have had special study and training focusing in the prevention and treatment of adult diseases. At least three of their seven or more years of medical school and postgraduate training are dedicated to learning how to prevent, diagnose, and treat diseases that affect adults. Internists are sometimes referred to as the doctor, because they are often called upon to act as the consultants to other physicians to help solve puzzling diagnostic problems.

Internists are equipped to deal with whatever problem a patient brings no matter how common or rare, or how simple or complex. They are specially trained to solve puzzling diagnostic problems and can handle severe chronic illnesses and situations where several different illnesses may strike at the same time. They also bring to patients an understanding of wellness, disease prevention and the promotion of health.